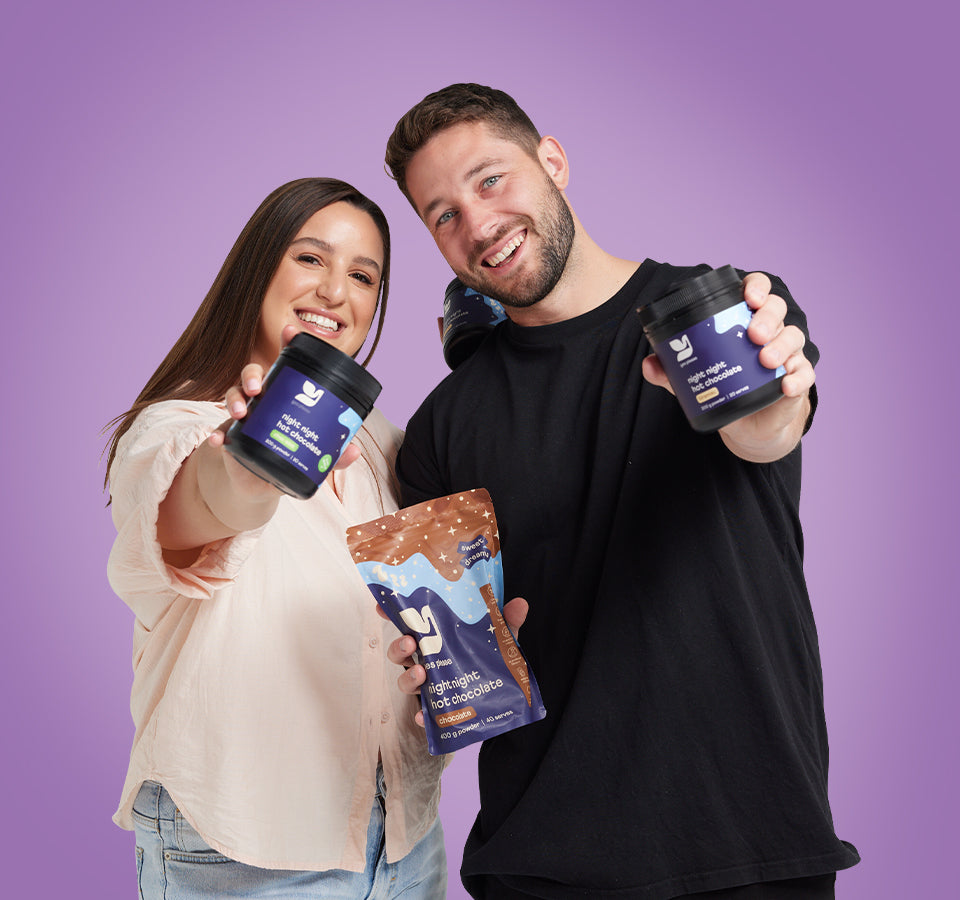 Doubles as a delicious night time snack

Major snooze-town benefits

Less than 40 calories per serve

The ultimate night time blend of Zizyphus, Passionflower and Magnesium

Even better as a frothed hot drink or iced chocolate

No artificial colours or flavours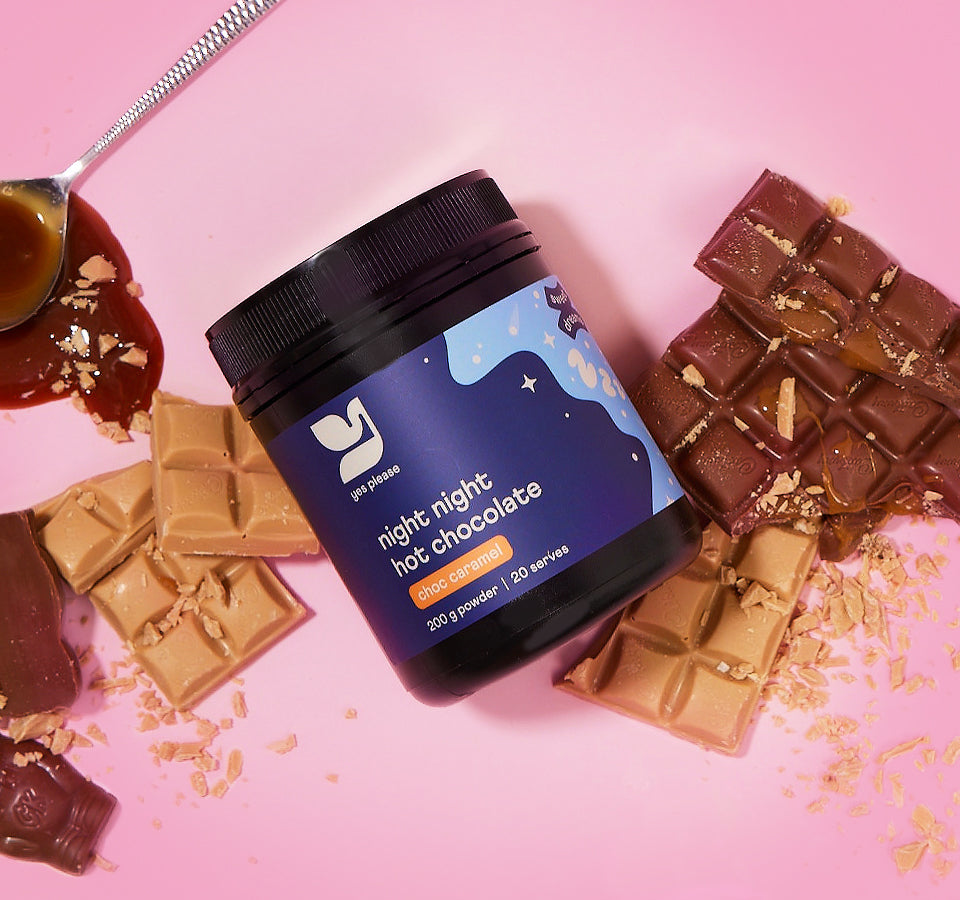 It's all thanks to our powerhouse night-time ingredient lineup, formulated by our team of health professionals.
Here's how they did it:
Passionflower
Playing a key role in our night-time routine, Passionflower is a herb traditionally used (and loved) for its effective relaxation qualities.
Zizyphus Jujuba
Zizyphus Jujuba is traditionally used to relax the mind, while helping people to fall asleep (and stay asleep) for longer.
Magnesium Phosphate
Among its many benefits, the mighty mineral Magnesium is known to help combat fatigue and maintain energy throughout the day. May seem counterintuitive included in a night-time routine, but the feeling of waking up refreshed? Yes, please!
Frequently asked questions
All of our supplements/food products are developed, manufactured and fulfilled in Australia. Our manufacturing facilities are in various locations across Australia, with our fulfilment team local to our office head quarters in South Australia.
We got 2 reasons for you.. First, is our Night Night ingredient blend. It ticks a LOT of boxes and it really is what sets us apart. With a night time blend of Magnesium, Passionflower and Zizyphus, it's why it's the hot chocolate of your dreams (pun intended) Second, is taste! It's honestly so crazy how similar it tastes to a regular hot choccy. And we worked very hard to make sure that we nailed the taste! Frothed with your favourite milk, it really is the night time treat you've been waiting for.
Milk frothers do a great job at aerating the milk while also making your Night Night extra thick and smooth. But it's not to say it's the only way! You can lightly whisk and simmer your Night Night scoops + milk in a small saucepan for a short time over your cooktop to still give you a great result! We would just recommend giving your Night Night scoops a small whisk (a fork will also do great) in a smaller amount of liquid before adding it to the larger quantity.
Night Night Hot Chocolate is not formulated for use during pregnancy or breastfeeding. We recommend to speak with your healthcare professionals prior to using Night Night Hot Chocolate if you are pregnant or breastfeeding.
Total 5 star reviews: 288
Total 4 star reviews: 24
Total 3 star reviews: 5
Total 2 star reviews: 3
Total 1 star reviews: 2
97%
would recommend these products
Reviewing

Night Night Hot Chocolate - Chocolate

Love!

I bought this after trying it at a friends house and fell in love! Amazing taste and benefits 10/10

Reviewing

Night Night Hot Chocolate - Chocolate

Best sleep ever!

Did I think this may be placebo? Yes. Was I wrong? Yes!

2 kids that still wake up during the night occasionally and I'm forever tired. Once they are down, we have a nice hot choccy which helps wind down for sleep! Even having to wake up for the kids in the night, it's so much easier to get back to sleep and feel like I'm rested! 10/10 🤩

Reviewing

Night Night Hot Chocolate - Chocolate

It saved my teenagers sleep

Honestly, this nightly ritual of a hot chocolate for my almost 16 year old has made a world of difference. She has always has anxiety around bed and sleep but 3 months into drinking the hot chocolate religiously she is going to sleep so easily and staying asleep! Amazing!!

Reviewing

Night Night Hot Chocolate - Chocolate

Delicious 😋

I love the Hot chocolate. I will definitely try the the other flavours.

Thank you

Reviewing

Night Night Hot Chocolate - Chocolate

Yum!

Love this for a little night cap. Definitely recommend making it with half milk or all milk otherwise it's a bit watery and tastes a bit more like sweetener. Also- definitely froth the milk for the best version of this hot choccie!!
Reviews Loaded
Reviews Added